Pivotal Quotes
"If her health permits her to break fast now and if she feels that her health will improve later, she can fast these days later. Otherwise, the question about someone feeding on her behalf, yes, this is permissible. One of her relatives may feed a poor person for each day that she misses on her behalf."
"So as a general rule, zakāh and feeding for the days of Ramāḍān is not to be given to the non-Muslims. However, if it is someone who is inclined towards Islām and we feel that they may accept Islām if given something of the wealth, then yes."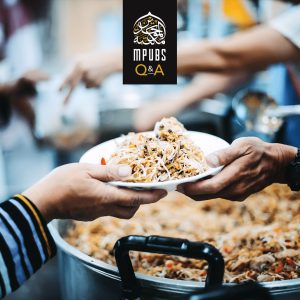 Question:
My grandmother accepted Islām a few months ago but she has hidden her Islām from my grandfather because he is a strict Christian. She has Leukaemia and some other health problems, which means that she has to take medicine in addition to chemotherapy so she is not fasting and it is hard for her to cook and feed a poor person for each day of the fast she has missed. So is it permissible for me to feed a poor person for each day that she does not fast on her behalf because she is sick and not able to fast? And does the poor person fed have to be a Muslim?
Answer:
Even though it is not a condition that her husband know about her Islām, she should not try to avoid the acts of worship that are obligatory upon her because of her husband. Because she is not able to fast due to her health condition, she may break the fast every day. But her breaking the fast is not so that her husband will find out she is fasting and she is a Muslim, her breaking the fast is because of her sickness. And it is not permissible to forego the obligatory acts of worship because of fear of any person.
If her health permits her to break fast now and if she feels that her health will improve later, she can fast these days later. Otherwise, the question about someone feeding on her behalf, yes, this is permissible. One of her relatives may feed a poor person for each day that she misses on her behalf.
And the aṣl (origin) is that zakāh is to be given to Muslims, not to non-Muslims. However, the exception to the rule is if there is a non-Muslim who we feel that by giving him zakāh that he will be inclined towards accepting Islām. This is one of the categories of people who are eligible for receiving zakāh: people's whose hearts will be inclined towards accepting Islām if they are given something of the zakāh.
So as a general rule, zakāh and feeding for the days of Ramāḍān is not to be given to the non-Muslims. However, if it is someone who is inclined towards Islām and we feel that they may accept Islām if given something of the wealth, then yes.